Black Nylon Spiked Dog Collar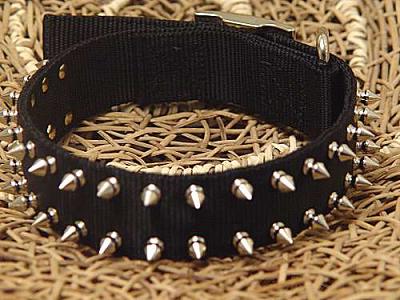 Handcrafted Nylon Spiked Dog Collar
For Large Boxer
Description
Wide 2 Ply Nylon Spiked Dog Collar Hand Crafted by
www.Rottweiler-breed.com Professionals
This collar will fit dogs with neck size 21 inch and up to 25 inch (55 cm - 65 cm)


This Collar Is Extra Wide - Almost 1 3/4 Inch - Which Makes It Perfect Tool For Handling Large And Active Breeds

This Nylon Collar Is Made With 2 Rows Of Symmetrical Proportional Spikes That Help Bring Out The Beauty Of This Hand Crafted Creation. We Use Only Heavy Nickel Hardware, 1/2" Solid Steel Nickel-Plated Spikes - This Is Guarantee That It Will Not Rust Ever !!!


Available In Black Very Durable and Thick Heavy Stitched 2 Ply Nylon Material

This collar is made to last. Put it on your dog in the WET WEATHER CONDITIONS - This collar is "Functionally fashionable".


Spikes are hand set with brass rivets.
Hand set brass rivets secure the stainless steel buckle and D-ring (for tags and leash.)
Buy this nylon spiked collar now - $27.90